Yalbury Café & Wine Bar, Dorchester, Dorset
UPCOMING EVENTS @YC's
12th – 18th August 2019

If you have not experienced one of our High Teas this is your chance or just come in for a cream tea (no reservations required) Book in with family or friends and celebrate this week in style.
Caribbean Week

TBD maybe a West Indian Tray Bake coming up in August!
1st – 30th September 2019 – Sourdough Bread Month

Enjoy Evershot Bakery's Sourdough Bread, one of the original Bakery's in Dorset
1st September 2019 – National Tofu Day

Come in for one of our Vegan Breakfast Burritos
7th September 2019 – World Salami Day

Two ways to enjoy, in one of our baguettes as a Sandwich of the Day or on a Thursday night when you can enjoy our amazing Raclette Night
13th September 2019 – International Chocolate Day

Let us surprise you, goodies and drinks
25th September 2019 – World School Milk Day

Bring the kids in and have a JR Hot Chocolate
Don't forget our amazing…
Mexican Night EVERY WEDNESDAY AND SATURDAY

6:30pm – close (hot food stops at 8:30pm)
Bruschetta Bar and Raclette Cheese Night EVERY THURSDAY

6:30pm – close (hot food stops at 8:30pm)
Steak night FIRST THREE FRIDAY'S of the Month

6:30pm – close (hot food stops at 8:30pm)
Jazz night LAST FRIDAY of the Month

6:30pm – close (hot food stops at 8:30pm)
BOOKINGS
For Evening Dinner, Sunday Lunch & Private Functions call 01305 260 185
Did you know we do outside catering?
Anything from small canape parties to fine dining dinners or office parties. Ask for more info or leave your number and we will be in touch. Book YC's for your own private party in the evening with menus created to suit.
YC's Gift Card
Pop in and purchase a gift card,
A wonderful gift idea
Ask our staff how they can be used!
ABOUT YC'S
A collaboration of fine English produce and artisan French pastries brought to you by two experienced and enthusiastic chefs, a match made in heaven….
Otherwise known as YC's due to the partnership of Yalbury Cottage (YC) and Yvon Coignard (YC). The key individuals behind YC's are Jamie Jones from Yalbury Cottage, and Yvon Coignard, who met whilst working at Four Seasons Hotel in London. There they formed a great working relationship as well as a friendship which has stood the test of time.
We hope you enjoy your culinary experience at YC's as much as we have enjoyed creating it!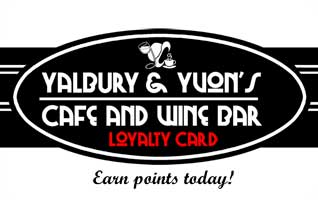 YC's Loyalty Card
For every £1 spent receive £0.05p back
Save up and redeem at YCs!
Pick yours up today!
YC's Cafe, Dorchester, Dorset