Yalbury and Yvons Café & Wine Bar, Dorchester, Dorset
A collaboration of fine English produce and artisan French pastries brought to you by two experienced and enthusiastic chefs, a match made in heaven….
UPCOMING EVENTS @YC's
Taco Night EVERY WEDNESDAY
A great fun evening with delicious Mexican food. Freshly made corn tortillas with a huge selection of fillings like chicken and chorizo or beef chilli. Lots of different toppings and condiments. Loaded Nachos. Homemade salsa. Guacamole and sour cream and different cheeses. Plus the classic Margarita cocktail or our YC's mojito with golden rum, mint, lime and apple.
Bruschetta Bar and Raclette Cheese Night EVERY THURSDAY
Come and experience our amazing Bruschetta Bar evening. Starting at 5.30pm until 8.30pm we will be serving Raclette cheese with your choice of filling and a help yourself bruschetta bar. Served with a wide selection of wines by the glass. This is suitable for Vegans, Vegetarians, Gluten Free and Dairy Free Diets. The evening has a lovely Mediterranean vibe and each plate of food is only £6.
Morrish and Banham Wine Tasting Evening Friday 22nd June
This month is an Australasian Adventures tasting dinner with Anthony Davis of Mentzendorff & Co. The evening will begin with aperitifs and canapes and is followed by wine tasting. After this a two course supper with wine will be served. The timings for the evening are usually 7.00pm – 10.00pm and places are priced at £40.
Cooking Demonstration Monday 25th June
Yvon Coignard is going to demonstrate how to make a selection of his famous desserts. This is a rare opportunity to learn from the master of French patisseries. It will start at 6pm and the demo will finish around 8.30pm to be followed by a delicious warm salad Niçoise and a selection of the desserts Yvon has demonstrated. Tickets are only £35 per person and must be booked through YC's.
Friday 29th June JAZZ NIGHT
A wonderful evening with the famous Zoe Schwarz. A delicious menu to choose from and a selection of fine wines are guaranteed to give you a memorable evening. Tickets sell out quickly so book soon!
Sunday Brunch
Every Sunday we will be serving our scrumptious brunch menu. Dishes will include a granola bocca glory, lemon buttermilk pancakes, fried egg bravas, avocado smash and smoked haddock kedgeree, plus many more! We will also be serving some fantastic drinks, cocktails and juices.
Available from 9am until 2.30pm
Cooking Demonstrations at YCs in 2018
Here is a sneak peak at our cooking demonstration dates for 2018! More details to follow.
August 20th 2018 Going to Uni! – After the great success from this year Jamie will be showing once again dishes quick and easy to produce. Low cost, no washing up and healthy!
November 13th 2018 Christmas feast – Everything you need for that perfect stress free Holiday!
YC's Gift Card
Pop in and purchase a gift card,
A wonderful gift idea
Ask our staff how they can be used!
ABOUT YC'S
A collaboration of fine English produce and artisan French pastries brought to you by two experienced and enthusiastic chefs, a match made in heaven….
Otherwise known as YC's due to the partnership of Yalbury Cottage (YC) and Yvon Coignard (YC). The key individuals behind YC's are Jamie Jones from Yalbury Cottage, and Yvon Coignard, who met whilst working at Four Seasons Hotel in London. There they formed a great working relationship as well as a friendship which has stood the test of time.
We hope you enjoy your culinary experience at YC's as much as we have enjoyed creating it!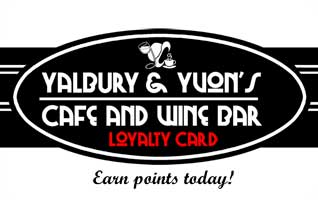 YC's Loyalty Card
For every £1 spent receive £0.05p back
Save up and redeem at YCs!
Pick yours up today!
YC's Cafe, Dorchester, Dorset