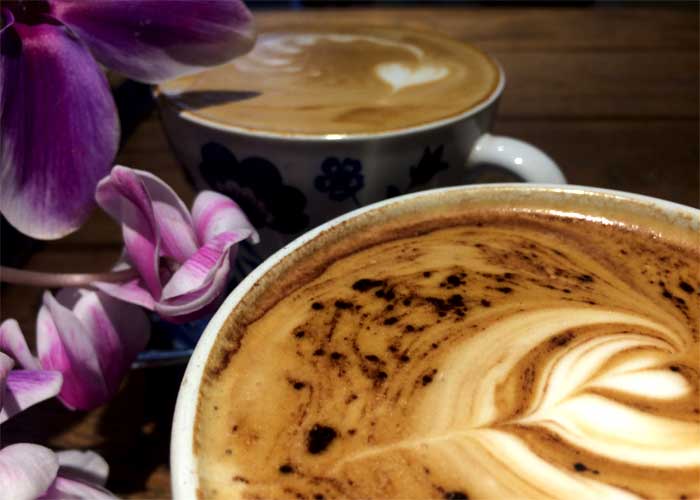 Hot Chocolate Royale

Our famous hot chocolate, chocolate buttons in a chocolate cup with
whipped cream ready for you to mix together in a large cup of hot milk.
Your choice of:
Plain (dark and white)
White Strawberry
Dark Strawberry
Dark Orange
Carmel (dark and white)
Coffee

Americano
Flat White
Latte
Cappuccino
Mocha
Espresso
Macchiato
Iced Coffee
Extra shot available on request
Pot of Tea
English Breakfast
Earl Grey
Decaf Tea
Specially Teas
Peppermint
Green Tea & Peach
Red Berry & Flower
Lemongrass & Ginger
Chamomile
Organic Red Bush
Green Tea
Soft Drinks
Coca-Cola / Diet Coke
Lemonade
Ginger Beer
Still / Sparkling Water
Folkingtons Juices
Pure Squeezed Orange
Pure Pressed Cloudy Apple
Old Fashioned Elderflower
Pure Pressed Cranberry
Mixed Summer Berries
Super Shakes
Foundation Protein Shake (Vegan or Whey Powder)
Ask for the Super Shake Menu
Milk Shakes
Ask for today's Special
Smoothies
Very Berry
Mango and Banana
Beer
Chesil Pilsner Ale
Durdle Door Copper Ale
Jurassic Traditional Ale
Jurassic Dark Wheat Beer
Corona
Peroni Lager
Cider
Traditional Apple Cider
Honey Bubble
Raspberry Kiss
Foxy Lady
Elderflower

DRURY COFFEE RAINFOREST ALLIANCE
Our coffee is sourced from Drury – a strong supporter of the Rainforest Alliance.
Drury works with the Rainforest Alliance partly because of the principles of ethics and sustainability they stand for, but also because the coffee is of truly exceptional quality.
More than 70 years' experience of coffee blending and roasting has gone into the development of our current range of Rainforest Alliance Certified™ coffees.