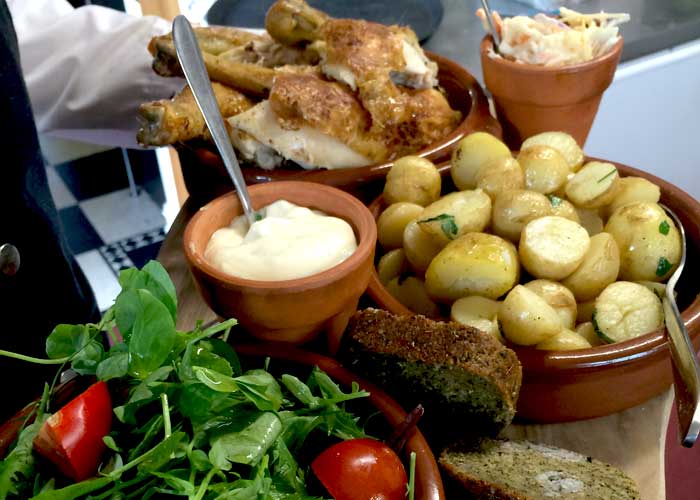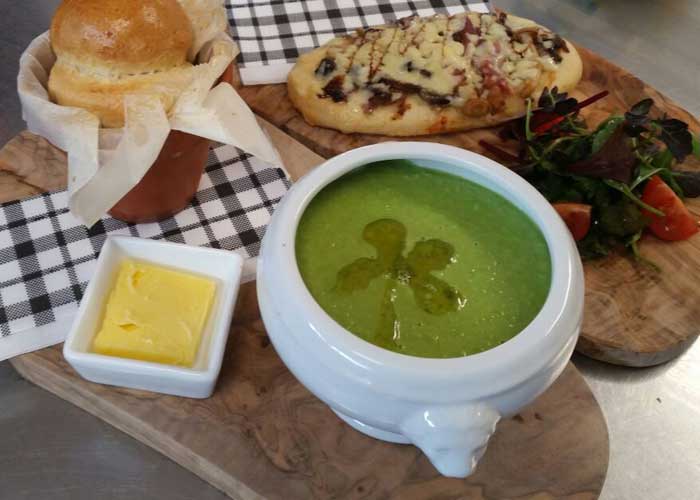 STARTERS
ALL SERVED WITH OUR FAMOUS FLOWER POT BREAD
SOUP OF THE DAY £4.95
CHICKEN LIVER PARFAIT IN TRUFFLE BUTTER £5.95
DOUBLE BAKED DORSET CHEDDAR CHEESE SOUFFLÉ £6.25
SMOKED SALMON PAUPIETTE WITH SOUR CREAM AND CHIVE £6.00
SEASONAL VEGETABLE FRITTATA WITH HOMEMADE PESTO £5.95
BAKED MUSHROOMS IN CREAMY BLUE CHEESE £5.95
BEETROOT SALAD WITH CARAMELISED GOATS CHEESE £5.95
BAKED CAMEMBERT WITH GARLIC AND THYME £7.50
DORSET PLOUGHMAN'S
LOCAL CHEESES AND MEATS WITH OUR HOMEMADE COLESLAW,
CHUTNEY, CHERRY VINE TOMATOES, WOODSFORD LEAVES AND HAND CUT CRISPS £7.95
CHEF'S SALAD WITH HAM, CHEESE AND BOILED EGG £7.50
ROASTED FIELD MUSHROOMS,
STUFFED WITH BUTTERNUT SQUASH RAGU,
TOPPED WITH FETA CHEESE ON A BED OF SALAD £8.50
DISH OF THE DAY
PLEASE ASK A MEMBER OF OUR TEAM FOR TODAY'S DISH OF THE DAY £9.95
DRESSED PORTLAND CRAB
WITH WOODSFORD LEAVES,
BOILED EGG AND CITRUS MAYONNAISE £9.95
TOULOUSE SAUSAGES
WITH CURRIED LENTILS
AND SAUCE SERVED WITH OUR FLOWER POT BREAD £9.50
WILD BOAR AND APPLE FAGGOTS
SERVED WITH MASH POTATO AND CREAMY DORSET CIDER SAUCE £9.95
ROAST CHICKEN PIE
BOUND IN A SMOOTH GRAVY, WITH SAGE AND ONION STUFFING
AND TOPPED AND BAKED IN A LIGHT PUFF PASTRY £9.95
YC BURGER
8OZ DORSET BEEF PATTY WITH SMOKED CHEESE, RED ONION MARMALADE,
CRISP LETTUCE AND TOMATO TOPPED WITH SLOW COOKED PULLED PORK IN A TOASTED BRIOCHE BUN,
SERVED WITH COLESLAW AND SAUTÉ POTATOES £9.95
THAI FISHCAKE SANDWICH
HANDMADE THAI SPICED FISHCAKE WITH SWEET CHILLI MAYONNAISE,
CRISP LETTUCE AND CUCUMBER SALAD
IN A TOASTED BRIOCHE BUN , SAUTÉ POTATOES AND COLESLAW £9.95
YC'S CROQUE MONSIEUR COLLECTION
YOUR CHOICE OF…
LOCALLY SOURCED GAMMON
WILD MUSHROOM AND GARLIC
SMOKED SALMON
ALL BAKED WITH BLACK PEPPER COASTAL CHEDDAR AND MUSTARD SAUCE,
SERVED WITH WOODSFORD LEAVES AND SEASONAL CHUTNEY £5.50
..ADD A FRIED FREE RANGE EGG FOR 75 PENCE AND MAKE IT A CROQUE MADAME!
BAGUETTES
CHOOSE YOUR FILLING FROM OUR DAILY SELECTION £5.50
GRILLED MINUTE STEAK BAGUETTE WITH GARLIC BUTTER £9.50
ALL SERVED WITH HAND CUT CRISPS AND COLESLAW
STARTERS
SOUP OF THE DAY £4.95
CHICKEN LIVER PARFAIT IN TRUFFLE BUTTER £5.95
DOUBLE BAKED DORSET CHEDDAR CHEESE SOUFFLÉ £6.25
SMOKED SALMON PAUPIETTE WITH SOUR CREAM AND CHIVE £6
BAKED MUSHROOMS IN BLUE £5.95
MAINS
TRADITIONAL SIRLOIN BEEF,
YORKSHIRE PUDDING, SEASONAL VEGETABLES,
ROASTED POTATOES, GRAVY AND HORSERADISH CREAM £12.95
SEASONAL VEGETABLE ROAST,
ROASTED POTATOES, YORKSHIRE PUDDING AND CHEESE FONDUE £8.95
FISH OF THE DAY £9.95
CHICKEN SUPREME,
SEASONAL VEGETABLES, ROASTED POTATOES
AND YORKSHIRE PUDDING TOPPED WITH ONION GRAVY £9.95
Feeling hungry?
Enjoy any patisserie for only £2 when ordered with a starter and main!